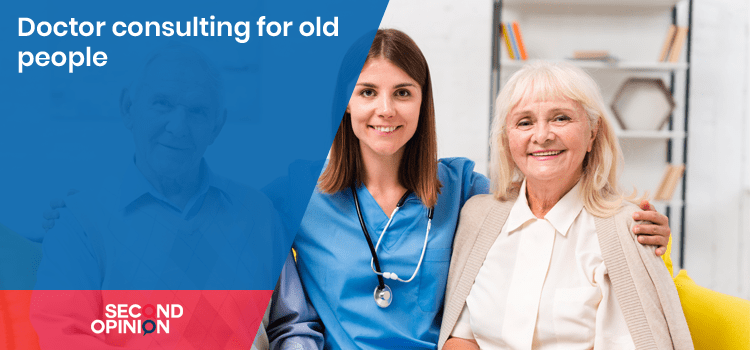 How Doctor Consulting App is the Answer to Old Age People Sufferings?
Parents play a major role in everyone's life. They work for their whole life to earn money, to buy our necessities and educate us. It is our sincere duty to care for our loving aged ones. The major part of caring for older people is satisfying their health needs. Second Opinion, an online doctor consulting app is designed to help them in any situation. Proper care is needed to help them stay fit and healthy.
Let's discuss in detail how doctor consulting apps can help old age people.
Avoid Visiting Hospital
As the immune system of old age people weakens and they have more chances of falling ill, it is better to avoid visiting the hospital because the infection may affect them. But what to do if they fall ill at home? They need a doctor's consultation to recover.
Online doctor consulting app can help you!
These apps connect patients with renowned doctors through chat or video calls from anywhere at any time. With no wait time, doctor consultation is made and prescription is provided. All you need to do is sign up, select a doctor, fix an appointment, and schedule a video call.
Comfort and Privacy
Health reports can be scanned and uploaded for doctor's verification. These reports are 100% secure that only doctors can be able to check it. Free chat doctor consulting apps give a prompt response to the medical inquiry. These apps offer 24X7 services from doctors who can guide you for further treatment.
Staying in the comfort of home and asking doctors online will be very comfortable for elders. You can select the date and time at which you want to meet the doctor via video call; so it is all about your comfort.
Get Rid of Unwanted Procedures
It's hard to talk to a doctor in the hospital and it involves a lot of procedures. When it comes to elderly people, they have to travel to the hospital; fill up their details in reception; waiting in the long queue to meet the doctor; All these processes are made easy with an online doctor consulting app. Doctors will reply immediately to all inquiries.
All the health issues will be diagnosed and treated online. A few free chat doctor consulting apps are available in the market which provides quick and reliable medical opinion.
Scan and save your report
Nowadays, elderly people also want to stay updated with technology and connect with people socially using their smartphones. No need to carry a physical copy of the reports wherever you go.
Scan and upload it in the doctor consulting apps so that doctors can check the history to diagnose and prescribe medicines. Expert physicians will update the answers in just a few minutes after the reports are uploaded. You can also read verified patient reviews to select the expert of your choice.
So, what are you waiting for? Download the Second Opinion app from the Play Store or App Store for a hassle-free treatment of elders!