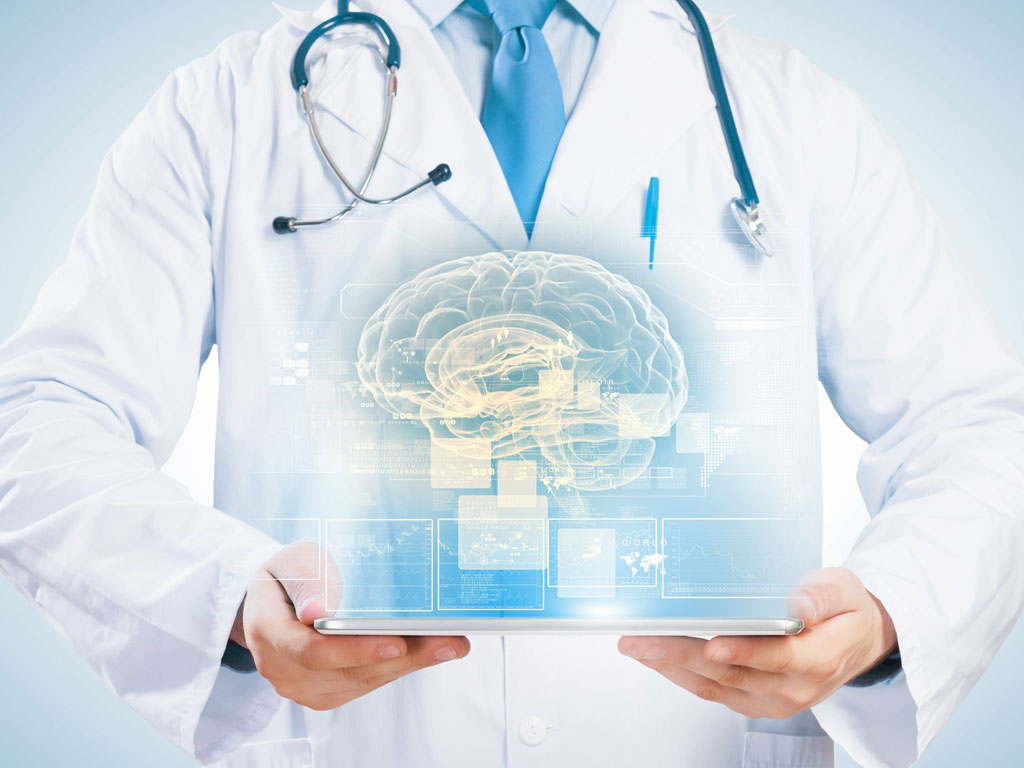 At the department of neuroscience a team of neurologists and neurosurgeons are available round the clock to provide quality neurological care. All head injuries including medico-legal cases are undertaken and immediate care to the patient is given at the intensive care unit (ICU) if needed with help of ventilator. Patients with stroke are taken care of by the team of neurologist, neurosurgeon, neuro-nurses and physiotherapist and rehabilitated to the full potential of the patient.
Department of Neuro surgery has a high and zesis operating microphone and midas Rex high speed craniotome and drill to facilitate micro neurosurgical procedures on the Brain & Spine. Complex cranial and spinal surgeries are undertaken in our department of Neuro surgery.
The availability of EEG (Electro encephalogram), EMG (Electro myogrma), nerve conduction studies, CT scan, Colour Doppler studies and a fully equipped 2-hour laboratory enhances the service of this department. Apart from regular services an epilepsy (fits) clinic, cerebral palsy clinic and a head ache clinic are some of the specialized clinic offered at the center.
Neurosurgery (Head injury & Trauma care)
Diseases and disorders of the brain, spine and nervous system often involve serious symptoms and call for complex surgical treatments. Here at Devadoss Hospital, our neurosurgical specialists provide advanced clinical care with a focus on using minimally invasive techniques whenever possible.
Neurosurgery a branch of surgery involved with the brain, spine and nerves, is a key specialty at Devadoss hospitals. Our Neurosurgeons treat neurological diseases such as head injury, spinal injury, brain tumors, spinal tumors, brain hemorrhage, hydrocephalus, nerve injuries, tumors, disc prolapse or herniation, spinal dislocation, unstable spine, congenital malformations like atlanto-axial dislocation, spinal dysraphism etc.
Treatment of seizures or epilepsy as well as modern treatments for movement disorders like Parkinson's disease are further specializations. More than 1000 major neurosurgeries are being carried out every year.
Ultra-Modern Laminar Air Flow Cardiothoracic Theater
Dedicated Cardiothoracic ICU
GE Cath Lab
Modern Intensive Cardiac Care Unit (ICCU) with all facilities
Dedicated Cardiothoracic and Cardiac Care Team
Angio and Cardiac Surgery can be done under package rates.The cost for the Open heart Surgery includes Hospital Charges, Drugs and Disposables and Professional Fees. The package allows for a total Hospital stay of 9 days. If the stay exceeds for some reason, the charges will be additional(Room rent, Medicines, Laboratory investigations, Diet etc.,).
This also includes Room Rent, Operation Theatre Charges, usage of Imported Monitoring Gadgets,Intensive Care Unit (ICU) & High Dependency Unit (HDU) stay including Ventilator charges,Pre and Post- Operative Tests and Investigations such as ECG, CXR, ECHO, Blood gas analysis,laboratory investigations, transfusion of 3 units of Blood as well as Diet for the patient.
Common Cardiovascular Diseases