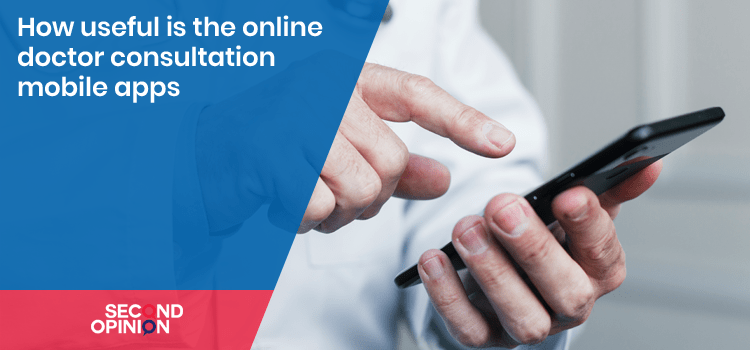 Nowadays, people are busy in their modern life and they don't have time for health. But consulting a doctor is very easy now. Fix your appointment to clarify your doubts with the doctors available online. Send your reports and talk to a doctor through our app www.asksecondopinion.com. We provide a list of verified doctors so that you no need to worry. With Second Opinion app, you can get your reports checked by verified doctors online. Consult a doctor anytime and everywhere without any restrictions
A simple way of treatment
A large number of online doctor consulting apps are available in the market. Online consultation apps give you a chance to consult your doctor at the earliest. All you need to do is book an appointment and call your doctor quickly. 
Looking for medical advice in your home? Second Opinion app is available in Play Store and App Store that allows you to create an account, post your question and book an appointment. Ask your doctor all the doubts you would like to clarify. 
Correct Diagnosis
If you are new to the city and have no idea which doctor to consult, then online doctor apps are very useful. Scan your medical report and upload it in the app so that the doctor will verify and make a clear diagnosis of it. If you face a health issue in the midnight and cannot travel to the hospital, you can make use of Second Online app because our experts are available 24/7
Doctors are shortlisted based on qualifications, experience and credentials. We are here for all your healthcare needs. Your identity and information that you shared with us are 100% safe. 
Fast and straight forward
Save your travel time by consulting a doctor online. You can clear your doubts instantly and our experienced and trustworthy doctors will not hesitate to explain things to you. Book your appointment now to make an inquiry about symptoms, risks, prevention and diagnosis of all diseases! www.asksecondopinion.com
No more hassle of visiting a hospital! Save time & money by consulting a doctor online! This app is user-friendly. So, people of any age group can use it.
Benefits of the Online Doctor Consultation Mobile App
Ask our healthcare specialists anywhere & anytime; we aim to provide you a hassle-free experience from the comfort of your home.

If you have any emergency when traveling somewhere and no hospitals are found nearby, then don't worry! Install SecondOpinion app and male a video call to a doctor online! No need to visit big hospitals for expert advice! Get it at the top of your smartphone. 

Get in touch with the best doctors! Consult your doctor 24/7 via video call. 

We have a team of experts to help you get rid of health medical issues.

Our doctors spend much time for the diagnosis to know all aspects of the disease. Book an appointment today! 
It's never late to chat with a doctor about all your health-related questions. HEALTH IS WEALTH!
App Download Links:
iOS – https://apple.co/2UtzjGj
Android –http://bit.ly/2x48XT9